NIH grant supports continued effort to train endoscopists through virtual reality simulation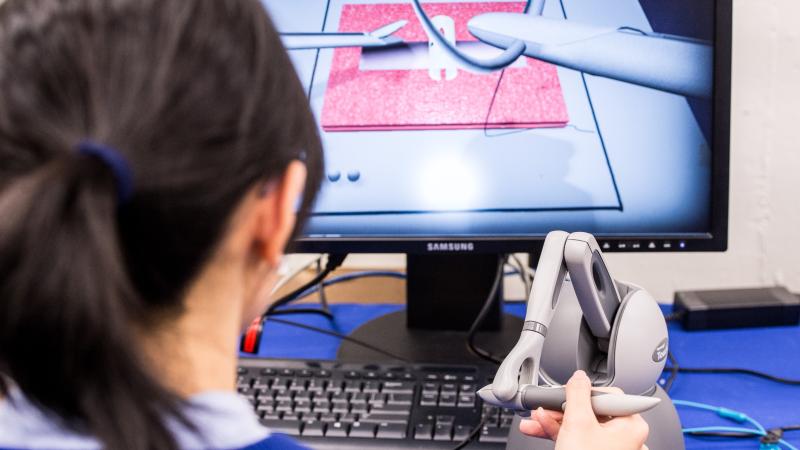 TROY, N.Y. — Finding safe solutions for the millions of adults in the United States who are battling obesity could vastly improve human health. According to the U.S. Centers for Disease Control and Prevention, obesity affected 39.8% of adults in the U.S. in 2015-2016.
A relatively new, minimally invasive procedure, known as endoscopic sleeve gastroplasty (ESG), may be an option for some people. The procedure is performed by inserting a suturing device through a person's throat and down into their stomach so that sutures can be placed to decrease the volume of the stomach.
A team of engineers from Rensselaer Polytechnic Institute, led by Suvranu De, the head of the Department of Mechanical, Aerospace, and Nuclear Engineering, is developing a virtual reality-based training device that can help train medical professionals to perform these procedures. The device, known as a ViBE — or Virtual Bariatric Endoscopic — simulator is being supported by a grant from the National Institute of Biomedical Imaging and Bioengineering of the National Institutes of Health (NIH).
In partnership with the Indiana University School of Medicine, the team recently completed studies aimed at gathering data from actual ESG procedures. The engineers want to understand what doctors see and feel during the ESG, so they can recreate those optic and haptic senses in an accurate and realistic virtual environment.
When complete, the training tool will not only virtually transport medical professionals into an ESG procedure, it will also provide real-time feedback and a performance scoring method. In order to make sure the ViBE simulator will enhance patient safety, the engineers will validate it by analyzing how the skills learned in a virtual setting transferred to the tangible world.
"We are in this unprecedented convergence of technology," said De, who is also the director of the Center for Modeling, Simulation and Imaging in Medicine (CeMSIM) at Rensselaer. "We are looking at high precision sensors, and tools. We are looking at these devices that did not exist before."
The ViBE research builds upon more than 15 years of work in the area of surgical simulation through the development of virtual reality-based medical training tools. De has also developed the first virtual reality simulator for "scarless" endoscopic surgery, VR technology to train and evaluate colorectal surgeons, and a virtual training tool to help clinicians learn and practice how to clear airways without harming any patients. Additionally, his team is currently working with Beth Israel Deaconess Medical Center on the creation of an augmented reality intubation simulator.
De sees this research as an effective and necessary means of training better surgeons, which he views as an important part of improving the health and safety of people across the globe.
"I've chosen surgery and endoscopy as fields of interest because of the huge unmet need," De said. "Human safety is absolutely paramount."