Entrepreneurs of the Year Vikash Agrawal '98 and Vikram Agrawal '02 to be recognized in ceremony on November 17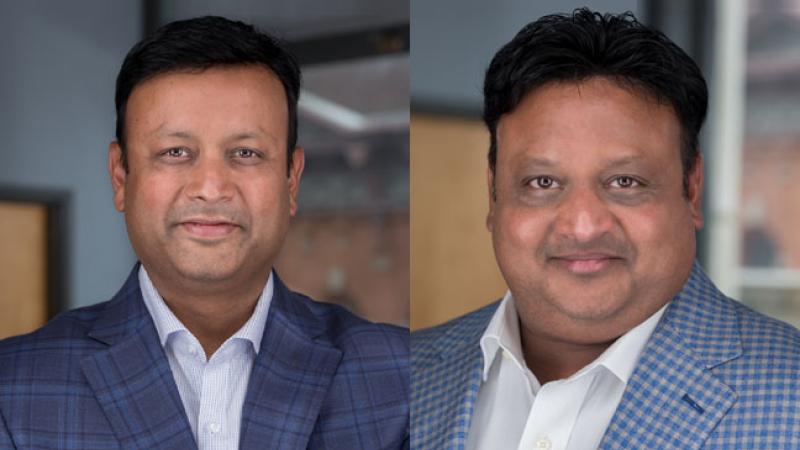 Intuit, Ecovative, Optum Labs, Nancy's Specialty Foods, and Vicarious Visions, which was acquired by Blizzard Entertainment, all have something in common: they were founded by alumni of Rensselaer Polytechnic Institute. They are also previous William F. Glaser '53 Entrepreneurs of the Year through Rensselaer's Paul J. '69 and Kathleen M. Severino Center for Technological Entrepreneurship.
This year, Rensselaer's Entrepreneurs of the Year are Vikash Agrawal '98 and Vikram Agrawal '02, who both earned master's degrees at Rensselaer. The Agrawal brothers have founded two successful companies, Levrx Technology and Etransmedia, and they also invest in companies experiencing rapid growth through a venture fund. The Agrawals will be honored at a ceremony on November 17 at 11:30 a.m. in Rensselaer's Center for Biotechnology and Interdisciplinary Studies. The event will be open to the public with free admission, but registration is required. It will be the first in-person event of its kind since the start of the COVID pandemic.
"Vikash and Vikram Agrawal are successful entrepreneurs who understand how to address the needs of the marketplace with novel technological solutions that help patients and health care providers," said Chanaka Edirisinghe, acting dean of Rensselaer's Lally School of Management. "On top of that, they boost emerging companies with their investments and contribute greatly to our regional economy. We, at Rensselaer, are proud that they are our alumni and are grateful for their contributions to our community."
Levrx Technology, based in Troy, uses the power of artificial intelligence (AI) "to revolutionize how individuals shop, save, and take control of prescription drug costs." In addition to being co-founders, Vikash is chairman and Vikram is president and CEO. Over 1.5 million people use their technology.
Etransmedia, which was started at Rensselaer, provides electronic health records to physicians across the country. Under the Agrawals' leadership, the company grew to 700 employees in nine countries and served 15,000 physicians in the U.S. alone. The Agrawals sold the company in 2016.
Together, Vikash and Vikram also operate a venture fund, called Vik Brothers NY, which makes investments in companies that are growing rapidly. For example, they invested in Ithos Global, a software firm also started at Rensselaer.
Innovation and entrepreneurship are part of the lifeblood of Rensselaer, which nurtures and encourages students' entrepreneurial ideas and aspirations. The Severino Center provides mentorship, coaching, professional connections, and entrepreneurship competitions that encourage keen business strategy. Rensselaer also offers myriad courses and capstone experiences that give practical training to students on how to take their ideas from the lab to the market. Vikash and Vikram Agrawal are examples of Rensselaer students who have benefited from these experiences at Rensselaer and are now giving back to the community to foster growth. They now sponsor Rensselaer's Business Model Competition, which they won as students. They are also regular volunteer judges at the annual New York Business Plan Competition, encouraging new entrepreneurs on their path to success.
"RPI has been a big part of my entrepreneurial success and now it is my turn to pay it forward," said Vikram. "We now sponsor the annual business plan competition that we won way back in 2001! We also employ a lot of RPI graduates as employees in our business. It is a great honor to receive this award and be recognized amongst the Rensselaer community."
"As a young student who landed directly from India, RPI helped shape my intellect, character, and leadership abilities," said Vikash. "RPI empowered me to innovate and create a positive impact in our community and in my career in digital health. This recognition not only honors my efforts but also reflects the outstanding support and opportunities I've received from this incredible institution."
Written By Katie Malatino