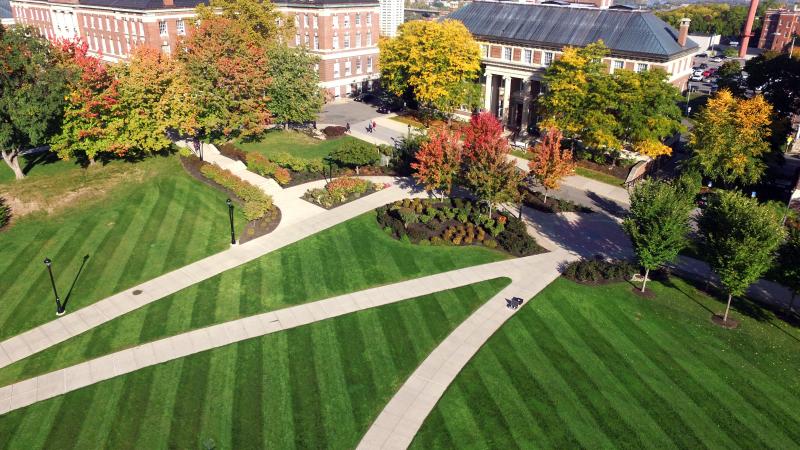 Faculty members from the Rensselaer Polytechnic Institute School of Engineering recently received four of the prestigious annual Institute Awards.
Fotis Kopsaftopoulos, an assistant professor of mechanical, aerospace, and nuclear engineering, received the Class of 1951 Outstanding Teaching Award. This award is given to recognize faculty accomplishments and outstanding performance in undergraduate teaching. Kopsaftopoulos received this award for his dedication to his students, excellence in teaching, and innovation in the classroom. Some of these innovations include developing a new course that focuses on building mathematical models of dynamic systems, exploring "gameful learning," and incorporating a studio format into his Engineering Dynamic class section.
Ali Tajer, an associate professor of electrical, computer, and systems engineering, received the James M. Tien '66 Early Career Award and Grant for Faculty. This award recognizes early career achievement, specifically productivity in teaching and research. Nominations are made by fellow faculty members. The Faculty Committee on Honors chooses the recipient of this honor. Tajer received this award for teaching excellence and his research contributions in the fields of information theory and statistical learning, including a significant impact on new ways to complete statistical inference in complex networks, information security, and power systems.
Nikhil Koratkar, an endowed chair professor of mechanical, aerospace, and nuclear engineering, received the William H. Wiley 1866 Distinguished Faculty Award. This award is given in recognition of excellence in teaching and research. It's given in memory of William Wiley, an alumnus of the Class of 1866, and was funded by the late Edward P. Hamilton, Class of 1907, a 34-year trustee of Rensselaer. Koratkar received this award for his student mentorship, excellence in teaching, and his achievements in the technology of one- and two-dimensional nanomaterials. This work has led to advances in nanotechnology, energy, and sustainability.
Daniel Walczyk, the director of the Center for Automation Technologies and Systems at Rensselaer, received the Jerome Fischbach '38 Faculty Travel Award. This award funds faculty participation in an international meeting. Since 1963, this award has been funded by Jerome Fischbach '38, to express appreciation for faculty contributions to students. Walczyk received this award for his excellence in teaching and his leadership in the field of manufacturing process development and modeling. His work in this area has led to new approaches in additive manufacturing and rapid tooling, reconfigurable tooling and fixturing, fuel cell manufacturing, composites manufacturing, and biomedical device design.